Profile
In the same year 1967, the first nuclear driven marine vessel "Otto-Hahn" was also launched in Germany - Today UEBERALL GmbH is located in "Otto-Hahn-Str. 11"...
More than 47 years of experience
Since 1967 the brand name UEBERALL stands for reliable, innovative and economic water treatment equipment made in Germany.

Today, after more than 47 years more than 6.000 UV sterilizers have been delivered to various industries, including Marine and Offshore.

UEBERALL GmbH is a Germany based, fully private owned company, proudly serving a constantly growing base of global first class customers.
Sustainability by constant growth
By expanding our product portfolio as well as our global customer base, we have managed to grow our business by 100% over the last 3 years and expect extended growth for the near future, based on an increasing order backlog.

Besides on Europe, our business activities are focused on Far East, Middle East and South America.

Our key expertise lies in global markets like the Marine industry, Offshore Industry, F&B Industry, Green housing and Aqua Culture, as well as in potable water supplies.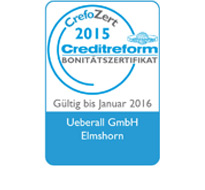 3rd party rated creditworthyness and financial strength
Ueberall GmbH is rated by CREDITREFORM and certified for it's financial credibility and strength. The certification status can be checked online by clicking here...
constant growth: